Dan P's Solar Installation Project
| | |
| --- | --- |
| Market | Residential |
| Budget | $3x,xxx |
| Start Date | June 16, 2022 |
| Completion Date | June 21, 2022 |
| Location | Ishpeming, MI |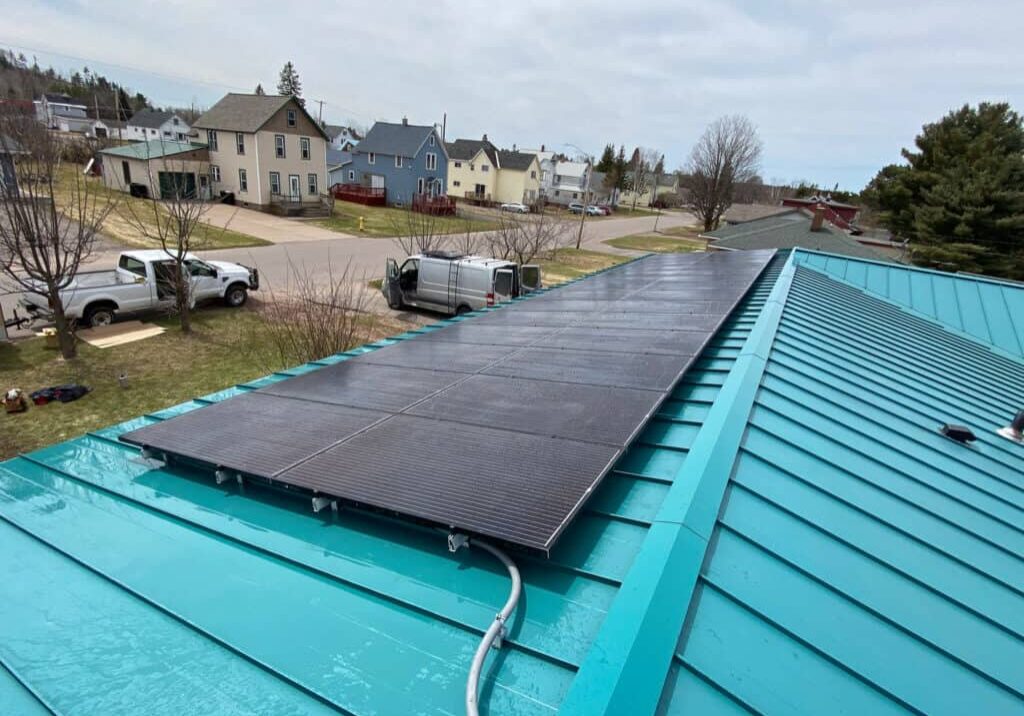 Dan Perkins, owner of Dan Perkins Metal Roofing, has been a longtime friend of the Peninsula Solar team. The standing seam style of roofing that Dan installs is perfectly suited to rooftop solar installations, so it was perfect when Dan reached out to Peninsula Solar for a solar system quote for his home.
An UPPCO customer, Dan was growing tired of paying more and more for grid power, so our team installed a battery-tied solar system at his home. These systems are designed to decimate a homeowner's electric bill, while providing automatic backup power when the utility has an outage.
"To prospective clients of Peninsula Solar:
We had a 6kW Solar Array, new service and battery installed at our home in Ishpeming, MI last year (2022) and we are very satisfied. The salesman who helped us, Ben Shimpf, was incredibly knowledgeable, competent and trustworthy. He directed us to great products, and guided us through all government incentives available to us. The workmanship of the installation was beyond what we expected, and the follow up on programming the system for different needs at different times of year has been exceptional. We would recommend Peninsula Solar to anyone and everyone." - Sincerely, Dan and Pam Perkins
Our team analyzed Dan's electrical system and energy usage, as laid out on his UPPCO bill. This allowed us to customize his solar system to perfectly suit his needs. Our in-house master electrician carefully designed the electrical diagrams, and we ordered materials from our tier-one suppliers accordingly.
Because a battery-tied solar system like this one (built around the Sol-Ark 8K inverter) allows a homeowner to maintain seamless backup power on their critical electrical loads during an outage, it was important to confer with Dan to decide which electrical loads he wanted to designate for automatic backup power. Our in-house master electrician rewired Dan's electrical panel and installed a sub-panel in accordance with this plan.
On the roof, our installation team took meticulous measurements in order to plan out an ideal racking scheme for the solar array.
During the installation, interior electrical work and rooftop solar installation were carried out simultaneously. Our electricians installed Dan's inverter and battery system, while our solar installers constructed the aluminum rooftop racking and mounted the solar panels. Everything was wired together, approved by the local electrical inspector, and greenlit for utility interconnection. And voila! The solar system is online and will be powering Dan's home for decades to come.
Attention to detail is paramount for our team. Small details like smooth conduit runs and other aesthetically pleasing touches often require considerable amounts of extra work, but they always pay off in the end. The Peninsula Solar team brought this level of care and attention to Dan's project, as we do with every project. The results speak for themselves.
A battery-tied solar system in this region typically costs between $4-6/watt. Dan's 8.7kW solar system was priced within this range. Every Peninsula Solar proposal is 100% turnkey, meaning that the homeowner doesn't have to worry about dealing with the utility or inspectors. We take care of everything from design, to permitting, to materials and installation.
A solar system is essentially zero-maintenance. However, if a homeowner is inclined to keep tabs on their solar system's performance, our installations come with remote monitoring so that you can stay up to date with how your system is functioning at the touch of a button.
Dan's monthly electric bill has been drastically reduced, and his state of the art system will ensure he's insulated from whatever turbulence the energy market may go through in the coming decades.