Chris's Residential Solar Installation Project
| | |
| --- | --- |
| Market | Residential |
| Budget | $3x,xxx |
| Start Date | Dec 5, 2022 |
| Completion Date | Dec 9, 2022 |
| Location | Wallace, MI |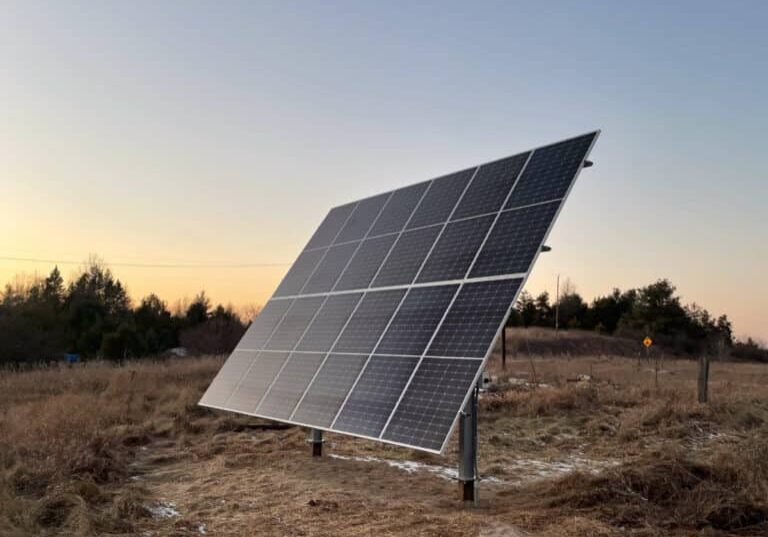 Chris Dessart built a new house in Wallace, MI and was looking for a ground mounted solar energy system. The goal was to supplement his grid power usage with a 5.4 kilowatt solar system and 15 kilowatt/hour battery bank with the ability to sell back any surplus power he generates to the utility.
"Great product, Peninsula Solar was very easy to work with and did a great job installing my Panels and Inverter. Highly recommend them."
Chris Dessart's project would require an interconnection agreement from his local utility (WPS), electrical permits pulled, a scheduled Miss Dig visit, 12 ZNSHINE solar panels, an 8k Sol Ark inverter, (3) 5kWh Ark LFP batteries, and a two post ground mount racking system. A job like this usually takes weeks from first visit to construction start in order to schedule labor, order parts and pull permits. Once construction began our team was able to finish in 4 days.
Once the size and location of the system are established we are able to accurately list all the materials required and calculate a price for the client. After contracts are signed we can order materials, pull permits, schedule labor and design the electrical system.
Chris wanted to cut down his utility power usage with the energy system he was adding to his new build. This requires our installation team to come to the site to locate exactly where the posts will go, and set them in augured holes with concrete. This process requires careful planning and measuring to ensure the posts are spaced properly, facing the right way, and in line with each other. When the holes are drilled and the posts are set in concrete, the team begins trenching the underground conduit run from array to house. This will serve as the route for DC power to reach his inverter, located in the basement. 
While our installation team works outside building his array, our electrical team works in the basement to set up his electrical system. This includes mounting the inverter, subpanel, wire troughs and AC disconnect. It also entails running conduit in a meticulous manner. The way this electrical system works is the DC power generated by the panels feeds the inverter which delegates that power to home loads and battery charge. The AC power from the electrical panel is run on a 60 amp breaker from the panel into an AC disconnect outside (for utility safety) and then back into the inverter. Another set of wires are run from the inverter into the critical loads panel which will house the home's most important loads that can run in the case of a power outage. 
This system is large enough to provide substantial power to the home but still will require some power from the grid. This allows Chris to reduce his energy bill immensely and gives him visual access to how his system is working, how much power he's producing, the charge level of his batteries, amount of power being used from the utility and more. This information allows the customer to become well informed about their energy usage. Knowing what times of day are the peak production hours, Chris can manage his energy usage accordingly.
Budgeting a project is a fairly routine task. Once we know what the customer wants in terms of size, style and what they are willing to pay, we can easily itemize their parts accordingly and provide the customer a fair estimate. One thing that can be a challenge is availability of the equipment we want to use. If we cannot get the equipment we originally intended when we need it then a search for alternatives may be undertaken. If this is the case we will write the customer a bill for a change order which will add or subtract accordingly to the total price point.
Chris's system has been running smoothly, as we can see via the monitoring software.  Any settings changes that can be made to improve efficiency will be immediately noticed and acted upon.