Solar energy is the most cost-effective way to power your residence, allowing you to produce robust and reliable energy while avoiding rising utility costs.
The average homeowner in Michigan pays nearly $200 per month on their electric bill costing them thousands each year. You will continue to pay more and more each year as your electric bill increases by 2-3%, or more, on average each year.
If you bought a house today you will likely spend almost $100,000 on your electric bill before you even pay off your mortgage.
The only way to save on your electric bill, that doesn't involve restricting your energy consumption, is to install a solar system for your home.
At Peninsula Solar, we can help you own your own energy instead of renting it from a utility company, saving you tens of thousands of dollars over time.
If you're thinking about adding a small solar array to your home, call us today at 906-235-0340 or request a quote online to learn more about our products and services.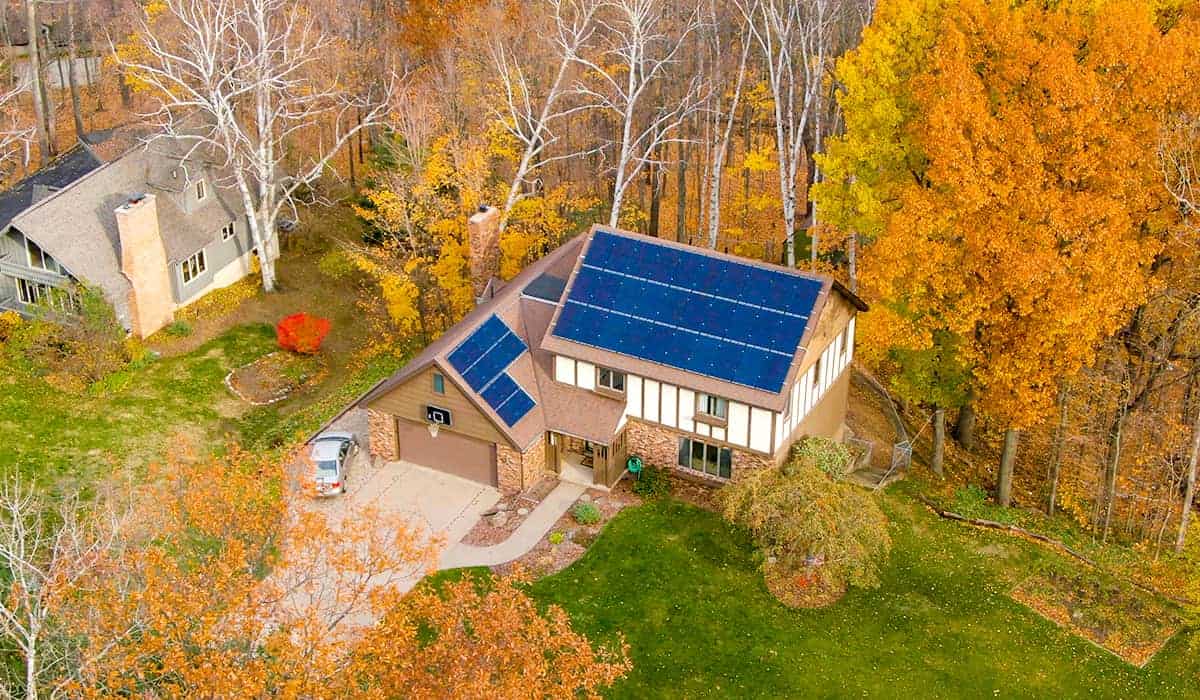 Benefits of a Residential Solar System
There are many benefits to installing a solar system on your home but the most important one is reducing your long-term expenditure on electricity.
By adding solar panels to your home you can cut your electric costs by up to 100%. This can save you hundreds of dollars per month and thousands over the course of a year or more.
| Duration | Electric Bill Cost | Savings w/ Solar* |
| --- | --- | --- |
| 1 Year | $2,400 | ($22,600) |
| 5 Years | $4,800 | ($13,000) |
| 10 Years | $24,000 | ($1,000) |
| 20 Years | $48,000 | $23,000 |
| 30 Years (Standard Mortgage) | $72,000 | $47,000 |
Aside from cost savings, other benefits to installing a solar system are:
You can earn a substantial tax credit.

Your solar system can extend the life of your roof by protecting it from the elements (sun, snow, wind or rain) and keep your home cooler in the summer by absorbing the heat from the sun.

They have very little maintenance aside from making sure they aren't covered by leaves or debris. 

You will typically see an increase of around 5% to your total home value.
Warranty on Residential Solar Panels
A modern solar panel system that's maintained can provide power for over 25 years without any major maintenance or repairs.
The solar systems we install here at Peninsula Solar all have a 25 to 30 year manufacturer warranty. We have many customer's solar systems outlive the warranty because of the quality of our installation and the extra care we take with every system.
Cost to Install a Residential Solar System
The total cost of your solar system will come down to how much electricity you use. The typical Michigan resident will need a 6-12kW solar system.
Before any final quote is given the team at Peninsula Solar will use solar modeling software to determine the correct system size for your home.
Even though the cost may seem high at first glance, there are major incentives and tax breaks that help lower the initial cost of financing a solar system. When you pair these incentives with the immediate savings on your electric bill, you will find significant long-term savings.
We pride ourselves on our ability to overcome obstacles and perform lasting and efficient installations in some of the most difficult working conditions. Don't write off your project, let us surprise you as to what is possible.
We are a Sol-Ark Certified Installer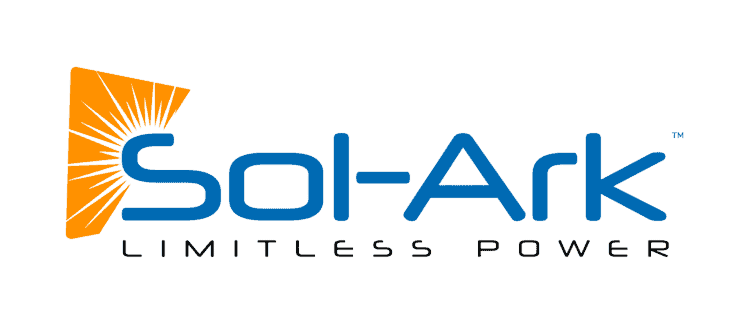 Taxes & Incentives for a Home Solar System
There are federal and state programs available that can help you pay for your solar system installation. You can currently save 30% off your installation costs by leveraging incentives and tax breaks.
Federal Solar Incentives for Residential Installation
The federal residential solar energy credit can be claimed when you file your federal income taxes for a percentage of the cost of a solar system paid for by the taxpayer.
There is no maximum amount of money that can be claimed as it is based on a percentage of your total cost.
The current tax credit for installations from 2022 to 2032 is 30%. This means if your system cost you $30,000 then you would get almost $10,000 back in a tax credit to help pay for it.
You can find more information on receiving this tax credit by going to Energy.gov.
IRS form to file with taxes: IRS Form 5695
Michigan Solar Incentives for Residential Installation
Michigan falls short on incentives to install a residential solar system compared to other states but they do still have some benefits:
Solar Renewable Energy Certificates (SRECs) - The market for SRECs is limited in Michigan but there are times where utilities, such as DTE or Consumers Energy, will buy excess energy.
Low-Cost Solar Loans - There is a low-cost program, called Michigan Saves, that helps homeowners pay for solar installation.
State Property Tax Exemptions - You will pay just $32 extra per year on your property taxes which is much lower than other states.
Net Metering - Net metering was eliminated in 2019 in an effort to make electricity more affordable for everyone. Through this program you may be eligible to receive credits for exported energy at a lower than retail rate.
Examples of incentives you could receive depending on the product installed:
Cherryland offers per panel incentive.

Traverse City Light & Power, post installation incentive.

Alger Delta, up to $3,000 cash incentive.
Paying for a Home Solar System
There are two ways to pay for your residential solar system or solar panels: cash or financing. If you're paying cash for your installation it's very straight forward and you will simply need to speak with a sales representative and get quoted.
If you're financing your solar installation, Michiganders can take advantage of the Michigan Saves loan program.
The Michigan Saves program is a home energy loan program that helps homeowners get approved to make upgrades to their home with low or no upfront cost.
The maximum loan amount you can receive with a Michigan Saves loan is $60,000. Your credit will affect your interest rate but most applicants have an interest rate around 5-6%.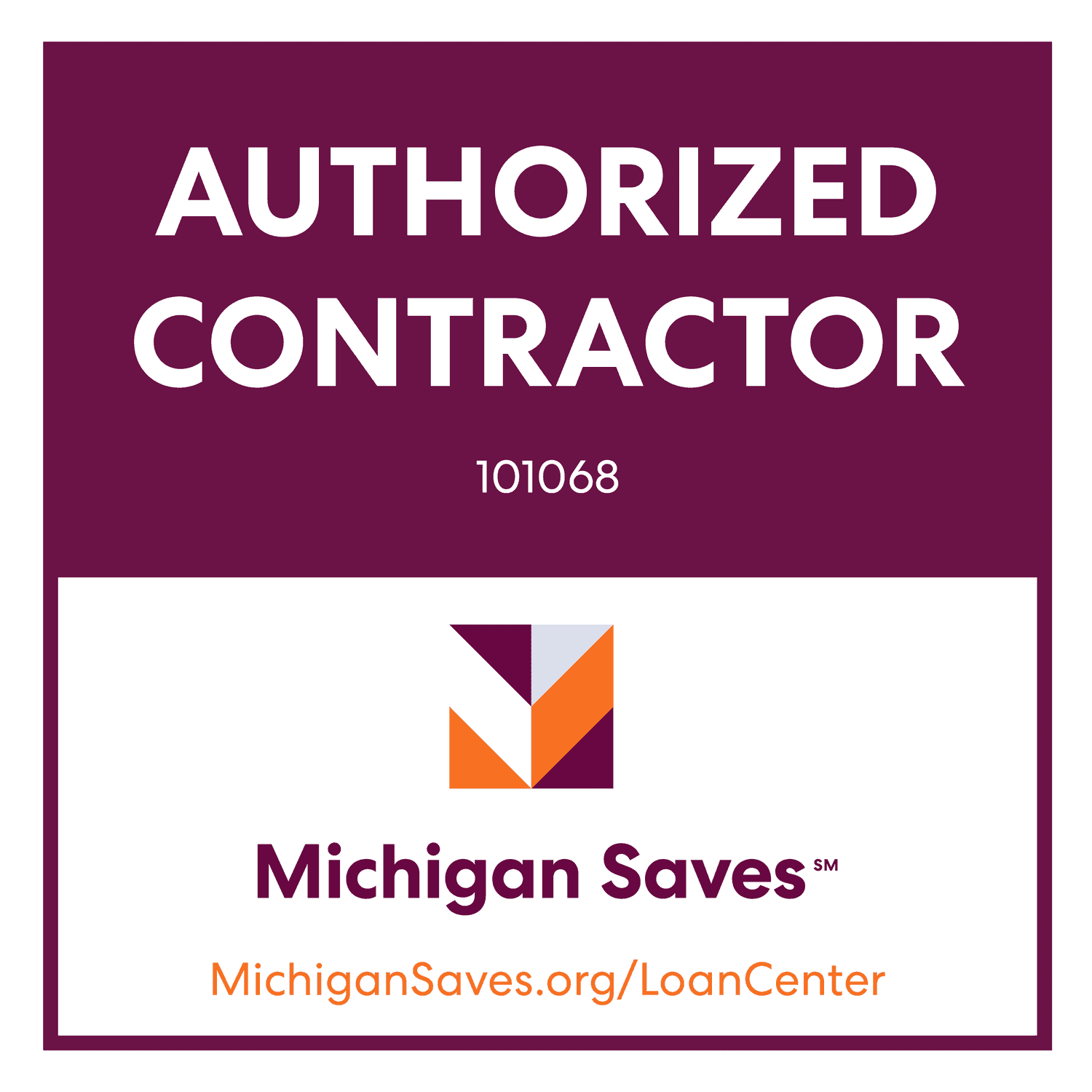 Learn More About Residential Solar Installation Today!