Upper Michigan's Premier Solar Provider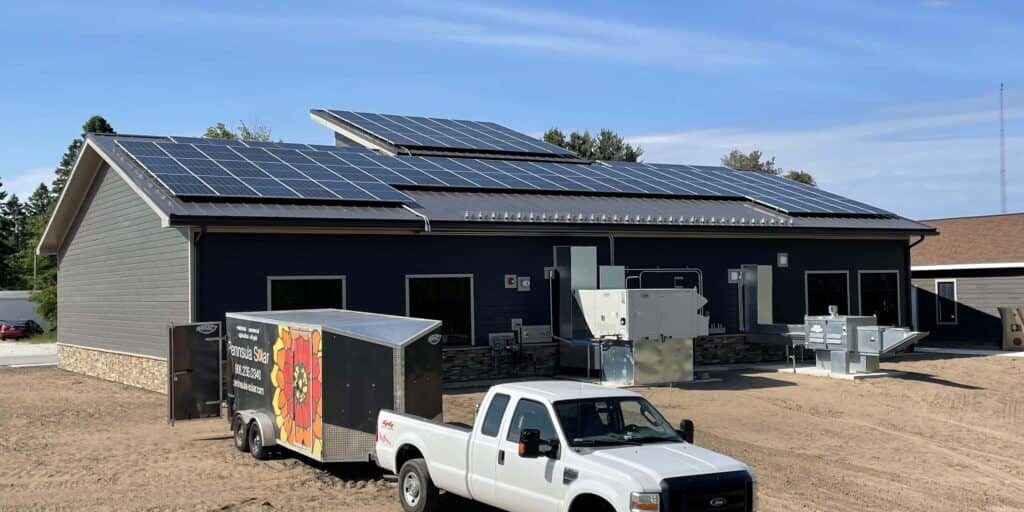 We are a small, close-knit team of environmentally conscious individuals aiming to have a big impact as we provide sustainable energy to Michigan, statewide.
Established in 2011, Peninsula Solar is a photovoltaic design and installation service started by electronics engineering technician and professional roofing contractor, Ian Olmsted. Steady growth has led to the development of a dedicated team of individuals aiming to provide customers with a smooth transition into the world of renewable energy.
Years of experience has led to our keen understanding of how solar photovoltaic systems are integrated into buildings on physical, electrical, and policy levels alike. This is supported by esteemed relationships with supporting contractors and equipment distributors and an excellent track record. With a client base stretching across the state of Michigan, ranging from small scale residential projects to large scale commercial projects, our reference list is continually growing. The knowledge and relationships that we have developed over the past several years have proven to aid in efficient, beautiful installations that advertise themselves with value and extreme attention to every aspect of design and construction.
1) Complete Installer Understanding
Years of experience installing solar PV systems have provided us with a thorough understanding of how these systems are integrated into residential and commercial structures. We continue to focus on maintaining the most current, up-to-date understanding of all components of the installation process including: building code, emerging technologies, equipment specifications, warranties, safety, practicality, etc.
2) Complete Customer Understanding
We strive to inform and educate customers about the most practical, efficient, and cost effective options available for residential and commercial solar. Working together with our clients, we provide systems that that are visually pleasing and virtually maintenance-free. It is our top priority to make sure each of our customers has a suitable understanding of how their systems will operate, from the structural and electrical details to up-to-date information on local policy and utility agreements.
Accurate prior planning is key in the design and installation process of PV systems. In performing proper site inspections supported by the most current tools and software, we provide efficiently installed and aesthetically pleasing systems that require little to no ongoing maintenance. The equipment and materials incorporated into photovoltaic systems are intended to meet exact manufacturer and industry specifications. We work adamantly to ensure these standards are met from a manufacturer standpoint to electrical inspection. This means wires and cabling are fastened completely and securely; while mechanical and structural aspects such as roof attachments, racking, and panels are fastened with pre-designed torque, spacing, and symmetry in constant consideration.
4) Our Values & Standards
Word of mouth references from our previous customers have, and always will be, our most valuable advertising tool. As a company, our end goal is to provide our customers with solar electric arrays that pay for themselves in the shortest time frame possible. It is our intent to charge our clients a rate for installation that provides the most value to the customer and allows us to maintain proper insurances to our workers and clients, resulting in safe and efficient materials, equipment, and practices. The attention to detail found in the projects we complete provides our customers peace of mind throughout the lifetime of their systems.
Safety is our first and foremost concern. From system construction to the fully functioning condition of your solar array, it is our duty to ensure that systems are installed with the safety of our customers and employees in mind. This is achieved through continuing education of our workers, proper equipment, job site experience, and most importantly, patience and mindfulness while working in potentially hazardous work environments.