Solar Installation for Farmers in Michigan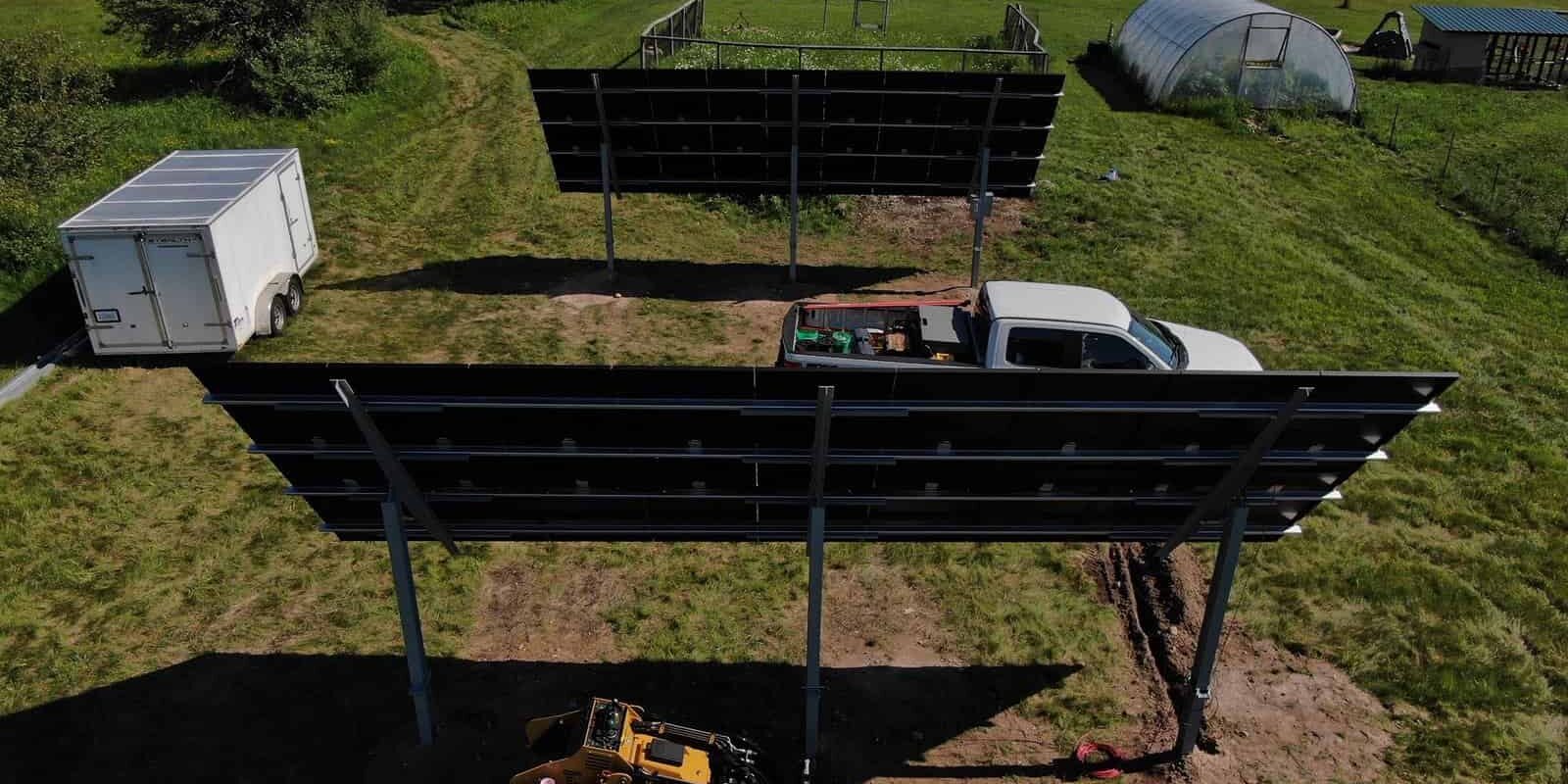 In today's world, financial stability and sustainability for farmers is paramount to a successful operation. Michigan is home to almost 50,000 farms and nearly 20% of the entire state's population works on a farm whether it's in livestock or crops. The rising cost of utilities continues to threaten farm operations for thousands of farmers across the country.
The average Michigan farmer spends $500 or more each month on electricity. You can offset up to 100% of this by installing solar for your farm.
Solar energy can empower farmers like you, enhance your financial stability, offer energy independence, and help optimize various aspects of your agricultural operations.
Save up to 50% on Solar Installation
The REAP grant can help cover up to 50% of your costs to install solar energy on your farm. This can save you thousands on your installation & thousands even more per month by going solar.
Talk to the Peninsula Solar team to see if you qualify.
Value of Installing Solar on Your Farm
The impact a solar energy system can have on your farm comes down to how much energy you actually use and what type of equipment you have. The easiest way is to look at your latest utility bill and see what your kWh value is.
An investment in solar energy can offset a large percentage of your monthly utility bill saving you thousands in the long-run. The team at Peninsula Solar can help you understand what your true cost and savings can be.
Benefits from installing solar:
It can significantly reduce or eliminate electricity bills.
It has a high potential for long-term savings and can help improve financial stability due to lower monthly bills.
There are government incentives and grants for installing solar.
You can break free from the growing cost of energy and fluctuating energy prices from utility companies.
You can protect yourself during a blackout and keep your farm running.
You can make a positive impact on the environment and become more self-sufficient.
How to Leverage Solar on Your Farm
As a farmer, you're always looking for ways to conserve energy and reduce costs in your day-to-day operations.
There are many ways you can use solar to offset your electricity costs on a farm. Essentially any device that uses power from the grid can be offset with the installation of solar panels.
The most common farm equipment that can be offset by solar energy:
Fans (Aeration, Barn, etc.)
Lighting (Yard, Barn, Motion Sensing, etc.)
Fencing
Heaters (HVAC, Water, Dairy, etc.)
Silo Unloaders (Grain, Grass, etc.)
Grain Dryers, Elevators and Grinders
Electric Motors or Devices
Depending on your farm operations, you may not be able to offset 100% of your energy needs to solar, however, you can still find creative ways to reduce your monthly cost and protect your operations during a blackout.
A few example scenarios of protecting your business during a blackout are with irrigation systems, barns and buildings and even with electric fending.
Solar-Powered Irrigation Systems
Adequate water supply on a farm is critical for crop growth and health. You can't always count on the weather to provide enough water when your crops need it the most.
It can take a significant amount of energy to irrigate your farm, however, by combining solar panels with your pumps you can offset nearly all of your energy usage for your irrigation system.
This can help keep your crops watered in times of serious drought or when utility companies hike up prices for peak hours or when the energy grid is being stressed.
Solar-Powered Barns, Pastures or Buildings
These areas are likely some of the most used spaces when it comes to electricity. From lights to ventilation, a photovoltaic (PV) system can help save you hundreds to thousands of dollars each month keeping these buildings up and running.
A solar array for your barn can help keep your most important electrical equipment up and running even during a blackout. This can help you protect your stored crops, keep your pastures ventilated or heated and more!
It's even more important to consider solar if you're building a new barn or smaller structure. It can cost up to $20,000 per mile to have a new electric line installed and you'll still have to pay a monthly bill to the utility company after.
In many cases, farmers will install a setup similar to an off-grid solar system for their structures that need less electricity and may not be close enough to warrant a grid-tied line.
Solar-Powered Electric Fencing
You often don't see a farm without some form of fencing, especially for ranches or cattle farmers. An electric fence can be a good tool to keep your animals protected from outside threats, such as a coyote.
By mixing solar panels with your electric fencing you can completely remove the need to tie your fence into the electrical grid. The fence will gain power throughout the day and you can extend your fence even further without the fear of an increased electric bill giving your farm more protection.
A solar driven fence can also function during a blackout keeping your animals protected and where they should be.
Cost to Install a Solar System on a Farm
The cost to install a solar array on your farm will be dependent on your current energy usage and planned usage in the future. To get this estimate you will want to look at your latest energy bill and see what your monthly kWh is.
If you're looking to offset a structure or two with solar it may not cost as much as trying to offset all of your energy usage.
However, the farms that have the largest energy consumption often are the ones that benefit the most from installing solar.
Paying for Solar Installation with the REAP Grant
The Rural Energy for America Program, or the "REAP Grant", provides guaranteed loan financing and grant funding to agricultural producers and rural small businesses for new renewable energy systems installed or to make energy efficiency improvements.
If you are an agricultural producer where at least 50% of your gross income comes from agricultural operations, you may qualify. The Peninsula Solar team can help you understand your options and what's available to you.
A qualified applicant can get up to 50% of the total eligible costs for a new solar installation offset by this grant saving you thousands of dollars.
If needed, you can also qualify for a guaranteed loan through the same program to help with your costs and it will cover up to 75% of the total eligible cost. You can learn more about the REAP grant by going to the U.S. Department of Agriculture's website or by talking to a Peninsula Solar representative today.
Solar Can Save You Thousands Per Month
Pairing the REAP grant with the reduced monthly cost of utility bills can save you thousands per month running your farm.
The systems installed by Peninsula Solar allow you to monitor your usage. You can see how much energy you're consuming and producing and continue to reduce costs over time.
Other Taxes & Incentives for Farmers to Install Solar
For commercial farmers and ranchers, you may be eligible to save 30% on your solar installation through federal tax credits.
The Inflation Reduction Act has extended the tax credit for installing a new photovoltaic system on your farm. This credit can help cover equipment costs (batteries, inverters, etc.), installation costs and any other inspection costs or fees.
It can save you thousands of dollars off of your installation and make installing solar an even smarter financial decision to protect your farm.
Get a Solar Quote for Your Farm
Peninsula Solar has over a decade of experience in designing the best solar systems for our customers. All installations are custom-designed for your personal and professional needs.
The experts on our team will step you through everything you need to know about installing solar and will handle everything from calculating your power needs to even handling all the permits for the installation.
We have helped several businesses in Northern Michigan and the Upper Peninsula achieve energy independence and save tons of money on costly energy bills with state-of-the-art solar systems.
Call the Peninsula Solar team at (906)-235-0340 or fill out a quote request form to speak with our team at any time to see how solar energy can help your business and save you money on energy.